All the nerdy things you need to know about 'House of the Dragon'
Emma D'Arcy as Rhaenyra Targaryen and Matt Smith as Daemon Targaryen discuss their bleach-and-tone routines in HBO's new "House of the Dragon."
(CNN)"Game of Thrones" fans, it's time to put your season 8 trust issues aside and return to Westeros for another emotionally taxing adventure! HBO's new spinoff "House of the Dragon" promises to have all of the rich lore of the original series, plus an extended CGI dragon budget.
As it is with any good high fantasy tale, your "House of the Dragon" experience will likely benefit from a little nerd homework. Here is everything you need to know before you watch so you can avoid common confusions like "Why are all of these blonde people so sad?" or "Wait, they're related?!"
(HBO and CNN share parent company Warner Bros. Discovery.)
We're in the dragon-heavy past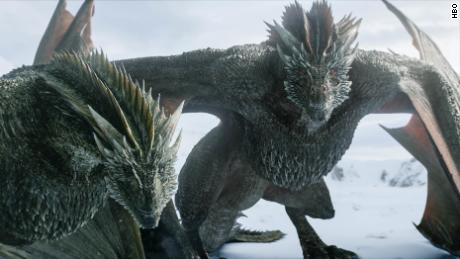 Remember these guys? There's more where that came from!
"House of the Dragon" is a prequel series that focuses on the Targaryen dynasty; they of myth, madness, incest and purple shampoo. In the original "Game of Thrones" show and in the "Song of Ice And Fire" book series, the powerful House Targaryen has all but died off thanks to regicide and what seems to be a familial lack of impulse control from generations of inbreeding. Daenerys Targaryen is one of the few that remain in GoT-times, and even she gets prematurely sent off to the Shadow Lands by her nephew-lover, Jon Snow. (The Targaryen family tree is very narrow, yet complicated. The Targaryen Family Shillelagh, if you will.)